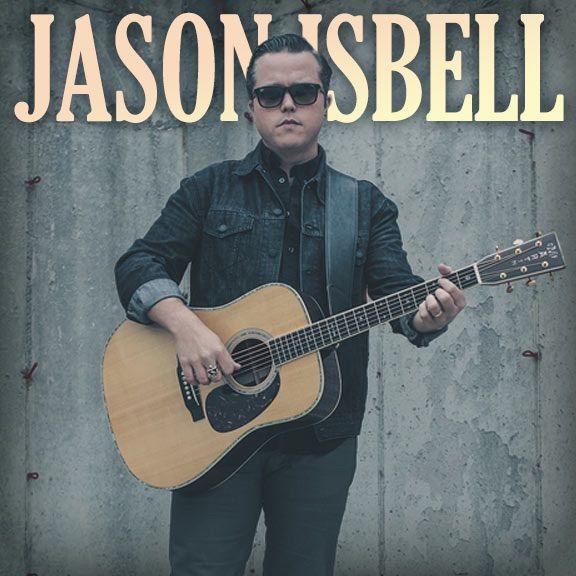 Jason Isbell's Website
Jason's Tour Schedule
Twitter:
@jasonisbell

Jason is the 2014 Americana Music Awards winner for artist, album (Southeastern) and song (CoverMe Up) of the year. In addition, he won the 2012 Americana award for song of the year for Alabama Pines from his third solo album, Here We Rest. Jason has five solo albums, including a live album, and three EP's to his credit and, before that, was a member of the southern alt-rock band, the Drive-By Truckers, for three of their best albums. His sixth album, Something More Than Free, will be released on July 17, 2015; the advance notices are enthusiastic. He is a native of Green Hill, Alabama, near Muscle Shoals, and is part of the extended musical family of the famed Muscle Shoals Rhythm Section (more on that below).
Southeastern appears to have been a turning point in Jason's career. Its release created a surge of interest in his work and occasioned some of the best writing about him. The articles listed below provide a good introduction to Jason and insight into his work. They also are the source for the biographical summary that follows.
Jason Isbell, Unloaded. New York Times Magazine.
http://www.nytimes.com/2013/06/02/magazine/jason-isbell-unloaded.html?_r=0
\

Jason Isbell, Happily Singing Sad Songs. Wall St. Journal,
http://www.wsj.com/articles/SB10001424127887324310104578511162077580272
Jason Isbell Keeps On Truckin'.
http://www.americansongwriter.com/2013/09/jason-isbell-keeps-on-truckin/
Since we're here at TVF, Jason's brush with The Voice is too good to pass up: TV invited Jason to be a contestant on Season 8. Jason tweeted out the invitation and then responded by, jokingly, accepting and stating: "My audition on 'The Voice' will be a solo vocal and French horn rendition of 'Oh Comely' by Neutral Milk Hotel. I will wear a #bikini."
http://www.rollingstone.com/music/news/jason-isbell-receives-bizarre-request-to-audition-for-the-voice-20141119
Bio
Jason began playing in local bars around Muscle Shoals and Florence, Alabama, when he was a sophomore in high school. The local bar bands he sat with were unique to the area. As the NYTM tells the story,

"These weren't just any musicians he was jamming with. Isbell grew up near Muscle Shoals, where artists like Aretha Franklin, the Rolling Stones and Paul Simon made classic records with a tight-knit group of soulful session musicians, white guys who sounded black. These men included the bassist David Hood, the father of Patterson Hood, with whom Isbell would later play in the Drive-By Truckers."

"'Those older guys would record behind other people during the day and go out and play these intense R.&B. covers at night,'" Isbell says. "'They took a real interest in me. They taught me a great deal.'"

In particular, Jason developed a musical relationship with Hood, whose son Patterson was one of the founders, with Mike Cooley, of the Drive-By Truckers. Soon Jason began sitting in local sessions with Hood and Cooley. One night in 2001, at a house party where a reporter from Spin was coming to see the DBT, the band's third guitarist (after Hood and Cooley) failed to show, and Jason sat in. From the NYTM:

"'Jason happened to be there that night, and we had an empty chair," Hood says. "He ended up going on tour with us." Within two weeks, Isbell had written "Decoration Day" and "Outfit," the songs that defined his tenure with the band. "I knew we'd struck gold," Hood says. "This chubby kid — he was 22 but looked like he was 15 — was going to be one of the great songwriters of our time."

'It was an auspicious moment to join the band. The Truckers has just released their third record, a double album titled "Southern Rock Opera" (2001), which become a major statement and breakout success. Rolling Stone gave the album four stars. The online music service Rhapsody ranked the album No. 6 on its list of "Rock's Best Albums of the Decade."

Jason stayed with the DBT until 2007, when due to personal problems, including problems with alcohol, he was asked to leave. Jason quickly started his solo career, releasing his first album, Sirens of the Ditch, in 2007. Two more original albums and one live album followed, all well received critically, but the problems continued. Finally in 2012, Jason's new girlfriend, Amanda Shires, an artist herself, and his friend, Ryan Adams, convinced him to enter rehab. It was a turning point for Jason. He and Amanda later married, and Southeastern is, in some ways, his "recovery" album. Its lead cut, Cover Me Up, tells part of the story, but mostly it is a love song for Amanda. You might well see most of the album that way.

So girl leave your boots by the bed we ain't leavin' this room
Till someone needs medical help or the magnolias bloom
It's cold in this house and I ain't going out to chop wood
So cover me up and know you're enough to use me for good
Jason's songwriting has always drawn favorable critical attention. Spin writes, "Isbell is among the finest lyricists working today."
http://www.spin.com/2013/06/jason-isbell-southeastern-thirty-tigers/
. American Songwriter says of Southeastern in the article linked above that listeners are "treated to a truthful, moving journey and a master class in songwriting to boot." Pitchfork says; "Isbell is an invigorating songwriter and one of the better lyricists of his generation."
http://pitchfork.com/reviews/albums/12683-jason-isbell-and-the-400-unit/
. In its reveiw of Southeastern, the reviewer for the website savingcountrymusic.com
referred to Jason as "one of those generation-defining musical talents" and stated of Southeastern:

"If there is such a thing as a superstar in Americana music, then right now, Jason Isbell is it. What we very well may be witnessing is a songwriting legend in the making. He's the songwriter that in the future songwriter-philes will hearken back to as proof of how the craft is lost. He's the guy right now making sure that it isn't. He is the Townes Van Zandt or Guy Clark of our time. So savor these moments, and feel blessed that you're getting to live them in their original era, because they're the ones future generations will look back on with fondness, and envy." savingcountrymusic.com/album-r…ason-isbells-southeastern

The early reviews of Something More Than Free are enthusiastic,
http://www.jasonisbell.com/press/
, and the first released song, 24 Frames, available on Jason's Soundcloud,at the link, is outstanding.
https://soundcloud.com/southeastern-records
Until the release of his upcoming album in July, Southeastern is the high water mark of Jason's work. So, for now, some music from Southeastern:
Six Songs from Southeastern
Cover Me Up
Stockholm
Traveling Alone
Elephant
Live Oak
Super 8 (a throwback southern rocker with a touch of the Rolling Stones)
Amanda Shires
Amanda has had substantial success on her own, with several albums and her song, When You Need a Train It Never Comes, selected as the fifth best written song of 2011 by American Songwriter.
http://www.americansongwriter.com/2011/12/american-songwriters-top-50-songs-of-2011/5/
Amanda was a fiddle prodigy. While she was a teen, she played fiddle for the Texas Playboys, the current incarnation of fiddler Bob Wills' classic Texas swing band. She has become part of Jason's band, and her playing complements and heightens many of the songs. With Jason, her style is frequently dramatic, but often angular and spare, mirroring the tone of the songs. She can rock with the band as well. If you looking for traditional country fiddle, you won't hear much of that from Amanda when playing with Jason and the 400 Unit.
When You Need a Train It Never Comes
[/size]
Jason and Amanda
Jason and Amanda are regular musical collaborators and often play as a duo. Last year, they toured as a duo to the UK and the continent. Two examples of their work together follow. The first is a cover of Warren Zevon's Mutineer, included on their Sea Songs EP, and performed recently on Letterman as part of his final series of shows. The cover of Springsteen's Born in the U.S.A. was done for a collection honoring the 25th anniversary of Springsteen's album. Take a listen: you've probably never heard the song like this.
Mutineer
Born in the U.S.A.
The post was edited 59 times, last by ned ().